A DocuWare system is complex and it is made of the following components:
Databases (MySQL, MSSQL, or Oracle)

Windows Services

IIS Applications

Windows programs

Directory location for documents

Directory  location for basket
So after a (complete) deinstallation of DocuWare please check if all components have been removed.
When deinstallation selected parts of DocuWare check the corresponding program parts.
NOTE: This procedure only removes the program from Windows and not the document storage locations nor the database objects. These items have to be removed manually. 

Procedures
You can initiate the uninstall process from:

Programs and Features (Add/Remove Programs for older version of Windows)(preferred option)​

You can also run the Setup.exe by elevating the rights and running as administrator even if you are login as an administrator.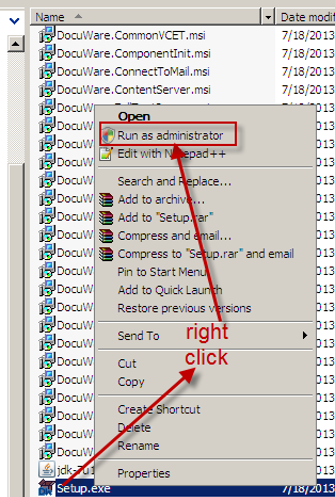 When you get this Window (image below) you can uncheck all or only the components that you want to uninstall.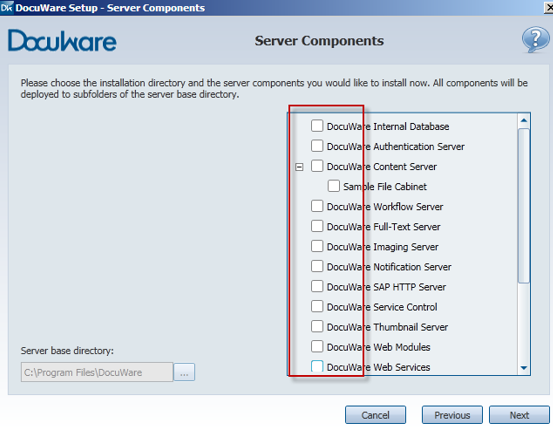 From the Windows Uninstaller Directory
Now, you have ran the uninstall process and some of the components still remain in Windows. T
hen you can go to the Installer folder in Windows and remove the msi files one by one or the ones that are still there.
In Windows start the Run command window and type the word Installer (press Windows key + r)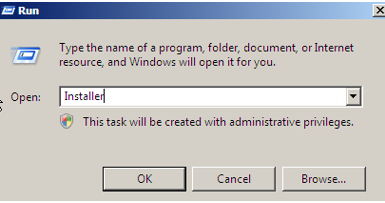 In this folder make the Authors and Subject column visible so that you can easy identify what msi belongs to DocuWare. To make visible right click in one of the column and select the column and if it is not in the list you can go to More option and it should be listed there. 
Right click in one of the msi files and select Uninstall

NOTE: One component that may not be removed from that list of items may be "DocuWare Setup", which should be fine.
Deleting Remaining Items of DocuWare 
DocuWare system (by default ) is usually installed in C:\Program Files(x86)\DocuWare\, so you may have to check this folder and see if it is empty. If you have images or any type of data stored in this folder then you may have to back up the folders or move the folders before deleting actual data.

(optional) DocuWare also stores some information in the registry. If you are not familiar with the registry you should export the registry keys prior to deletion.
HKEY_CURRENT_USER \ Software \ DocuWare
​HKEY_LOCAL_MACHINE \ Software \ DocuWare

You can also go into IIS and delete the folders and application that was delete by DocuWare install (Windows key + r then type inetmgr)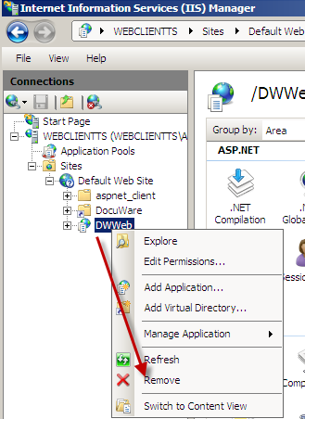 One last thing remaining may be the databases. If you are using a third party database like MSSQL or Oracle then you have to access the database and drop the DocuWare objects.