Question:
Is it possible to sync users from an active directory?
Answer:
Yes, DocuWare can transfer user accounts from Active Directory by creating a user synchronization job. The synchronization tasks are created in the DocuWare Administration.
DocuWare recommends creating similar group names in DocuWare so that it can reflect its group names in Active Directory. There are no tools or method to create groups in DocuWare automatically, which is why we have to create them manually.
To create groups in the DocuWare Administration, navigate to "Organization -> User Administration -> Groups (right click)". Below is an image to illustrate the process.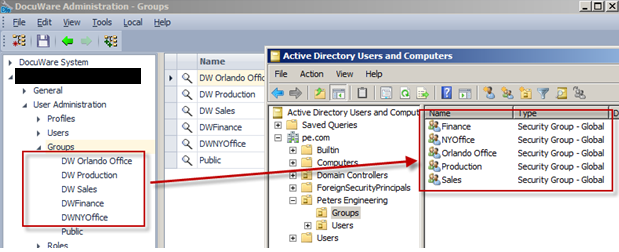 Next, we need to create a link between DocuWare and Active Directory. This link is done under "DocuWare System -> External User Directories (right click)".  It is also recommended to check the accessibility first before creating a synchronization job.

Name = Name of the configuration
Type = Windows (Use LDAP for a much more detailed configuration)
Create network ID = When users are transferred to DocuWare, they will be transferred with a network id (E.g.: Domain-Name\User-name). This is essential if you are planning to use Windows authentication in DocuWare.
Domain = Domain name, just the name not the full name
Computer name = The domain controller machine name or its IP address
User name = Typically a domain administrator account that browse groups in Active Directory
Password = The password of the Windows user.

Now, we need to create synchronization jobs that will transfer all users from those Active Directory groups.
The synchronization job can be configured under "Organization Level -> User Administration -> Synchronization (right click)".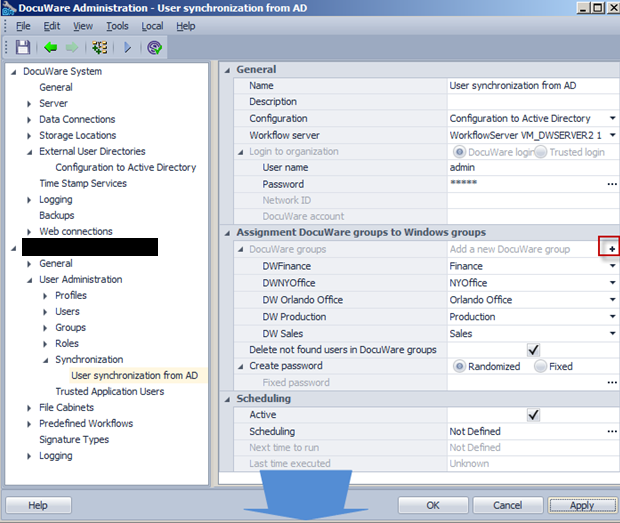 General

Name = Name of the synchronization job
Configuration = Select the configuration link that was created under the system level (previous step)

Assignment of DocuWare groups to Windows groups

You need to click on the (+) to build a list of DocuWare groups and then you will mix-and-match with Active Directory groups, as illustrated in the image above

Delete not found users in DocuWare groups = This option will remove the user from DocuWare group but it will not delete the users. In other words, it will delete users from any DocuWare groups which do not correspond to an active directory group the user is a member of.

Create password

Randomized = All user will have a generic password that the system will assign automatically. This option is typically selected when you are trying to use Windows authentication.

Windows authentication is enabled/disabled when network ID is added/removed to/from DocuWare users. 

Fixed = The same password will be assigned to all users. This option is typically done if you are NOT using Windows authentication.  Afterwards the users may want to reset their own password.
You can schedule to run or you selectively run once.



In order to confirm that the user has been transfer to DocuWare group, you have to reopen or refresh the DocuWare Administration tool.