Introduction:
DocuWare Cloud is a version of DocuWare where documents are managed and stored in the SaaS infrastructure.

You can store, search, display, download, edit, and integrate documents into your business processes over the Internet without any software installation in your local computer. Anywhere at any time; around the world. This version of DocuWare will give access to a fully working DocuWare system via Internet and without installing any server type software in your local computer.
 
Configuration:
Once you have created a DocuWare Cloud System and now you are wondering what to do next, follow the steps below and it will guide you through your initial process.
Go to docuware.com/cloud


 

Click on "Start your trial"




 
Register a new account with your company information. This information is important because it will be used as your login credentials.

 
 

After the information is entered a confirmation page will be displayed.  

Your will receive the following email once you have confirmed the account creation process.  This may take some minutes. Please also check your Junk Mail folder just in case the registration mail might end up in your Junk Mail folder.



7
 

Once you click in that link (above), the account will be activated within the next 30 minutes.

Now, you can use your login credentials to login to your Cloud system customer portal area. 

Now, you should have access to your account where you monitor your Cloud account plus additional options such as managing your account. In the Portal you will also find information about the DocuWare users, FTP address, quota limits, and information about connecting from mobile devices.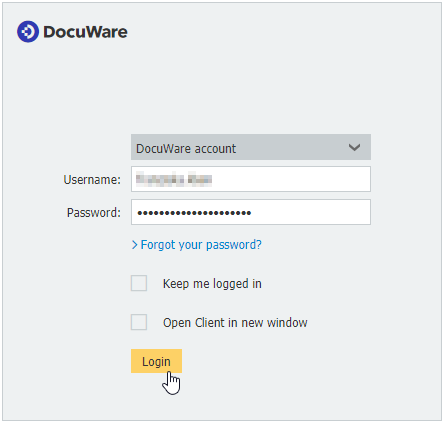 Once you have logged-in, you should have access to your default file cabinet and default tray 

Desktop Applications  
If you may want to install the desktop application to be able to add functionality or automate some of the process with your business documents. The desktop applications can be downloaded and installed from the Web Client.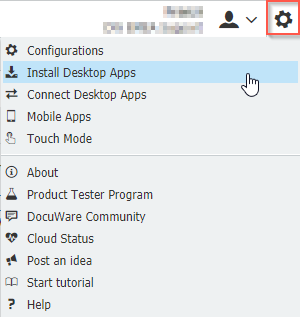 Once the Desktop App setup is downloaded, it needs to be ran. If the desktop applications are already installed or there are new updated ones available in the server side (in my case), then it will give options to update.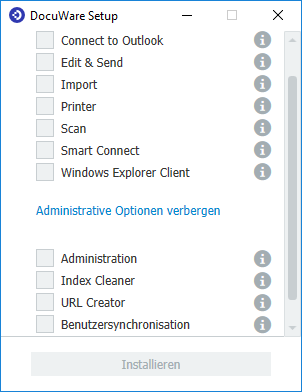 All client applications need a connection to the DocuWare system. To create the connection, please click "Connect Desktop Apps". 
The following Client Apps are available 
Connect to Outlook, It will enable to store emails directly from Microsoft Outlook to a file cabinet. This requires Outlook 32bit to be installed in that client machine. To use this App, you have to create a configuration  

This configuration can be used with Microsoft Outlook

Windows Explorer Client, first you have to configure Tree type dialogs in your Administration Tool. This will add an integration (add-on) to Windows Explorer, therefore, it is important that the installer has sufficient rights to alter the Windows components.

Smart Connect, to be able to capture data for searching or storing documents using screen scraping technology. 

Import, monitors a directory and import any files that arrives to that directory while applying OCR recognition engine. 

Scan, you can use DocuWare Scan to scan your documents and store them in PDF/A format for long-term archiving on your system. Any scanner installed on your PC (which has TWAIN and WIA drivers) can be used for this process. 

NOTE: I do not have any scanner driver installed, therefore, the additional setting are not available. If you have an scanner driver installed then these options will be available.
DocuWare Printer, With DocuWare Printer, you can import documents directly from your applications (e.g. MS Word, ERP) into DocuWare, in PDF/A long-term archiving format.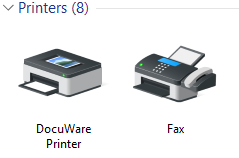 Workflow Designer, you can design working processes using document-based workflows, which are implemented with the DocuWare system. This relieves the load on your employees and makes daily business operations easier, as tasks can be performed quickly and efficiently. 
Edit & Send App, it is a small Desktop Application that is used for editing and emailing document from the Web Client.