Question:

How Do I Create A Transfer Job?


Answer:
 Log into the Web Client select the drop down next to your name and select the "Configurations" option.


 

 On the Configurations page select the "Transfer" plugin.




 

Select the option " New Transfer" located at the center of the page.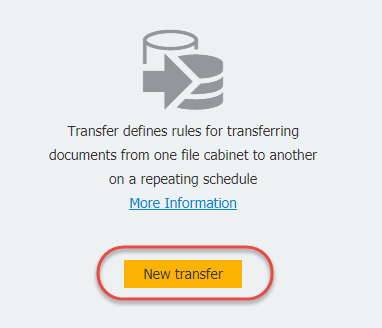 On the landing page of the new transfer you're given the the options to:
Select the transfer source and target file cabinet

Delete the documents from the source cabinet once moved

Enable transfer for cabinets with version management enabled 

Set a filter to Transfer only specific documents
Each one of these options will have a  

  icon located to the right of it, hovering over this icon will provide a brief description.
Note: Cloud organizations can only transfer within the same organization.
Note: There will be document duplication if a job is ran more then once without a filter or without deleting the documents from the source cabinet.



On the schedule tab you're given the option to:
Select how often this job will re-occur
Daily,

Weekly

Monthly

Never




rant users the right to edit and run this transfer Job
On the permissions tab you're given the option to grant users the ability to administrate or run this job.





Once completed save your changes and head back the page where you selected new transfer, you should now see your job in a list on this page.
If the job is set to a schedule it will trigger once that criteria is met, otherwise selecting the "Start Now" option will begin your job.