Behavior:
You have upgraded to DocuWare version 7.4 and have been experiencing issues when logging into DocuWare.

Solution:
These issues occur during the authentication process from the Identity Service to the DocuWare Platform. When users attempt to access DocuWare, they are redirected to the Identity Service for authentication, then are redirected back to the Platform, as depicted below:



Theses redirects may sometimes result in issues for certain system environments. To further understand and troubleshoot these issues, please follow the steps below.
(Note: If you are using a load balancer, please proceed to "Systems utilizing a Load Balancer" section.)
1. Open .../docuware/platform/home/identityserviceinfo
2. Check the URL under "IdentityServiceUrl" and verify if the host part of it (here: http://presentationvm) this is the same that you used to access this site.


3a. If the link did not display the correct address, please install the latest DocuWare Version 7.4 Update;

3b. If the link did display the correct address, please do the following:
- Sign onto DocuWare Administration using the "Desktop Apps Authentication"


- If Desktop Apps are unavailable or not connected, navigate to http://localhost/docuware/platform/webclient/clientaccount/login, login, then install and connect Desktop apps.
- Once completed, navigate to "Web Connections," which in located under "DocuWare System" within the DocuWare Administration Tool.
- If the host part of the URL you are trying to access DocuWare with differs from your web connection, please adapt(/add) your web connection to use the correct address
- Perform a IIS reset. If unsure how to preform this operation, please refer to this article; How to restart IIS correctly.
 
If the issue is not resolved, please proceed with the steps below:
- Navigate to "C:\ProgramData\DocuWare\Logs"
- Delete or move all logs from this directory.
- Reproduce the behavior once
- New logs should begin to populate. These logs will be for either Platform, Identity Service, or both. Please move these to a different location, so there would be no further messages written to them.
- Check the log files for common error messages (Refer to "Common Errors" section towards bottom of article) or provide these logs to DocuWare Support.
- If logs are given to DocuWare Support, please include the URL under which the error occurs, all URLs configured in any web connections, along with your IIS Bindings. If unsure how to obtain IIS Bindings, please refer to picture below;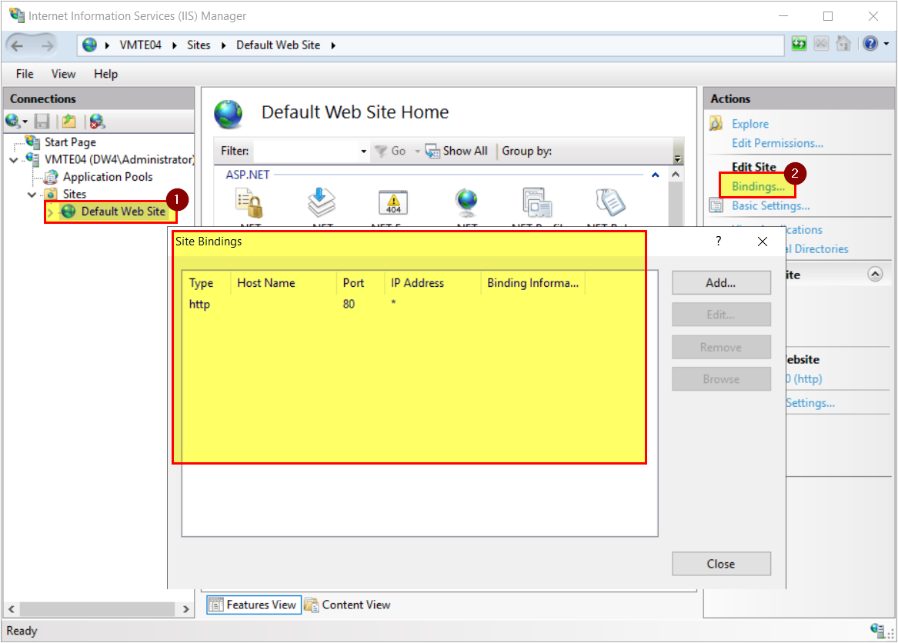 Systems utilizing a Load Balancer:
In cases where a load balancer is used which utilizes SSL Offloading, it is required to set a X-Forwarded-Proto header to "https". Depending on the load balancing technique that is used, please make sure this header is set up correctly. Also, please update to the latest DocuWare 7.4 minor update.
 
Common error messages:
These are the common error messages that may be displayed within your DocuWare system or system logs. Below these messages are actions and suggestions that can be taken to help resolve these issues.

IDX20804: Unable to retrieve document from: '[PII is hidden]':
DocuWare Platform cannot find the discovery document of Identity Service under the "IdentityServiceUrl" (see step 2). Please make sure this address is correct.

Keyword not supported:
The password of the database user contains a special character like ";" or "£". Please change the database user password to not contain these characters. This behavior will be fixed in a future update.

Issuer in token is not a valid issuer!:
Please install latest DocuWare 7.4 Minor Update.

IDX10108: The address specified is not valid as per HTTPS scheme:
You are most likely using a load balancer or reverse proxy that utilizes SSL Offloading. Please refer to "Systems utilizing a Load Balancer" section above.

Unknown system variable 'lower_case_table_names':
Please contact DocuWare Support.

Invalid redirect uri:
The URL the client uses to access DocuWare is not configured in any of the existing web connections.
 
KBA applicable for On-premise Organizations ONLY.